As the eLan Property Group, we were proud to power this year's Standard Bank KZN Top Business Awards, an event which recognises regional business achievers. Congratulations to all the winners.
The KZN Top Business Awards have been promoting business and investment in the province for the past 19 years. Through the awards and portfolio publication, private and public sector companies and organisations, large and small, are given the opportunity to showcase their work and contribution to the province's ongoing success.
The awards provided us with an excellent opportunity to present Blythedale Coastal Estate to potential buyers and investors.
Sales and Development Director, Andrew Thompson, addressed the audience which included many of the region's top business leaders. He shared some insight into the progress of the group's two North Coast developments – Jackalberry Estate at Mandini and Blythedale Coastal Estate.
On behalf of the eLan Property Group, he also shared his passion for the region and vision for how Blythedale Coastal Estate, as a catalytic development, will bring commercial opportunities to the area and fulfill unmet demand for a large-scale resort on the North Coast.
Whether politics drives economics, or it's the other way around depends on whether you're an Economist, or a Politician.
We hear a lot from politicians so it was refreshing to hear guest speaker, Standard Bank Economist, Goolam Ballim's take on the South African economy.
A concern he highlighted is the growing gulf between the wealthy and poor as a global fact. This phenomenon is vexing economists, politicians and, indeed property developers. That is why we've taken an inclusive approach at Blythedale Coastal Estate. Sustainable development relies on shared benefits and stability and at Blythedale we've had the opportunity to include those strategies to achieve that in our planning.
Not sugar-coating our situation, Ballim encouraged business leaders attending the awards, that when the tide rises again – hopefully in 2018 –  those that have weathered the storm will emerge even more resilient and in better shape to thrive.
Hosted at the Wavehouse's impressive Marquee, over 400 guests enjoyed a three-course meal in the build-up to the winners' announcements. Alongside the Marquee, the accomplished group, Afritude, entertained guests in the undercover Arena.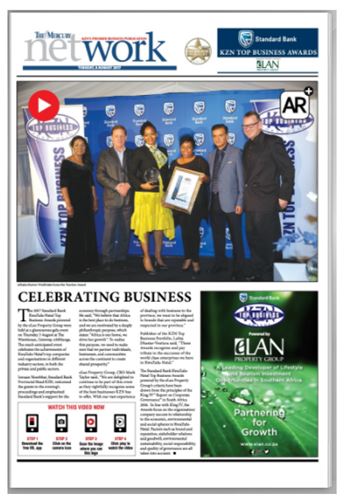 KZN Top Business Awards Supplement 2017